Moikka ♡
Sain tässä
geocolouredlenses.com
:ilta ihanaiset piilarit ja tässä niistä sitten arvostelua. Mulla ei oo koskaan ollu sinisiä piilareita ja halusin kokeilla. Piilarit näyttää yleensä tosi näteiltä tummissa silmissä ja vainottelen aina miltä näyttää mun haaleissasini-vihreä-harmaissa silmissä..kun sain nää laitettua silmiin, niin oih, rakastuin! Nää on aivan mahtavan upeat ja nukkemaiset ja söpöt ja selkeesti mun uudet lemppari circlet! :D
Heya ♡
I got a pair of lovely circle lenses from geocolouredlenses.com and here's bit of review about them. I've never had any blue circle lenses and I wanted to try them. Circle lenses usually look very nice in dark eyes and I always get worried how they will look in my blueish-green-grey eyes..when I put this on, oh yes, I fell in love! These are absolutely gorgeus and doll-like and cute and definetly my new favourite circle lenses! :D
Väri / Colour:
Sininen / Blue
Halkaisija / Diameter:
15.0mm
Kaarevuus / Base curve:
8.6mm
Vesipitoisuus / Water Content:
38-42%
Käyttöikä / Life span:
1 vuosi /
1 year
Hinta / Price:
€17,51 /
$22,90 / £14,95
- ilmainen postitus
!
/
free shipping !
Toimitus / Delivery:
Piilarit tuli perille 7 arkipäivässä lähettämisestä. /
Circle lenses arrived in 7 business days after being shipped.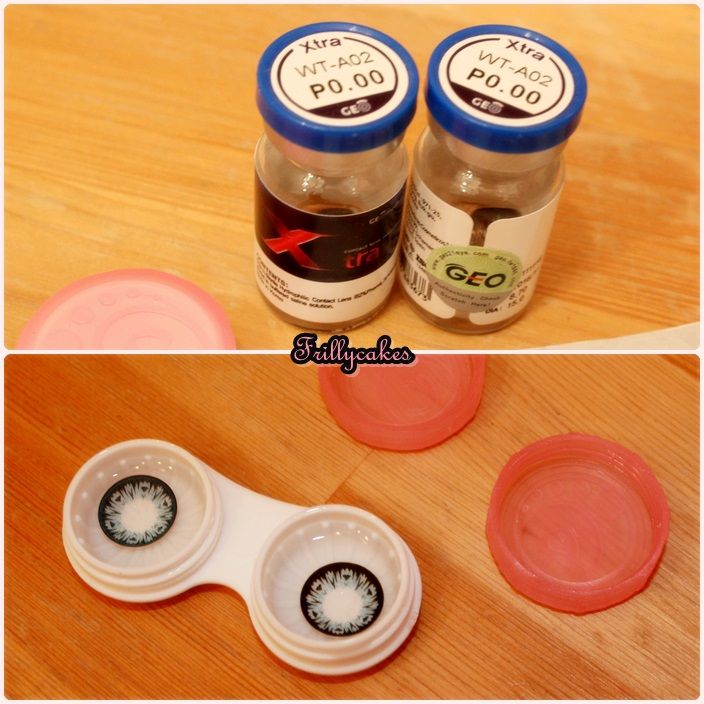 Väri / Colour
Ensin väri ei näyttänyt erikoiselta, melkein ajattelin värin olevan keskinertainen. Kaikki muuttui, kun laitoin ne silmiini. Olin ihan innoissani! Väri on sopivan raikkaan näköinen ja sulautuu hyvin hailakan värisiin silmiini.
First the colour didn't appear special, I almost thought the colour was mediocre. Everything changed, when I put them on. I was so excited! The colour is very fresh looking and blends very well to my pale coloured eyes.
Tyyli / Style
Valitsin nää tuon renkaan paksuuden vuoksi, koska se peittää tarpeeksi keskeltä, muttei tietenkään liikaa. Musta reuna on nätti ja piilareissa on myös mustaa kuviointia, mikä tekee niihin pientä erikoisuutta. Tuntuu, että nämä suurentais enemmän, kuin muut saman kokoiset mitä mulla on. Silmät näyttää tosi näteiltä, todella nukkemaisilta. Tykkään kovin, kun väri on oikealla puolella voimakkaampi, näkee helposti miten päin piilarit laitetaan.
I chose these, because of the thickness of the circle, it cover enough, but not too much ofcourse. The black lining is pretty and there's also bits of black pattern, which gives them little something extra. I feel like these enlarge more, than my other ones that are the same size. Eyes look really pretty, very doll-like. I really like the fact, that the colour on the right side is more intense, so it's easy to see which side is which.
Mukavuus / Comfort
Laitoin linssit päähän poikkeuksellisesti vasta meikin jälkeen, että sain otettua vertailukuvia. Tämä voi siis vaikuttaa kokemukseen hieman. Aluksi toisessa silmässä oli pientä häiritsevyyttä, mutta vähän liikuttelun ja silmätippojen jälkeen meni ohi. Mulla on todella kuivat silmät ja tarvitsen aina silmätippoja, oli sitten minkälaiset piilarit tahansa. Silmät tuntui kyllä aikas mukavilta näiden pitämisen jälkeen.
I put the lenses on exceptionally after doing my makeup so I got to take comparison pictures. This might effect my experience a little. At first I had a slight discomfort in my other eye, but after a little moving and eye drops it passed. I have really dry eyes and I have to use eye drops, no matter what lenses I have on. My eyes felt actually very good after wearing these.
Lolita, Gyaru, Hime ?
Sopii hienosti kaikkiin näihin tyyleihin, koska nämä suurentaa kauniisti ja tekee nukkemaisen näköiseksi. Sopii kevyeen ja raskaaseen meikkiin. Varmaankin cosplayihinkin todella hienot.
They go great with all of these styles, because the enlargement is beautiful and they make eyes look very doll-like. Compatible with light and heavy makeup. I guess they look great wih cosplay as well.
♥ ♥ ♥ ♥ ♥
Mun asu: / My outfit:
Mekko/Dress
: Only
Sukat/Socks
: Lindex
Peruukki/Wig
: Gothic Lolita Wigs
Hiuspanta/Headband
: H&M
Sormukset/Rings
: käsin tehty /
handmade


Mun mielestä näyttää jotenkin barbielta, kun on isot siniset silmät, vaalea tukka ja tyttömäinen tyyli. :P

I think this looks somehow like a barbie, when having big blue eyes, blond hair and girly style. :P


Toivottavasti tykkäsitte arvostelusta! ♡
Hope you liked the review! ♡