Moi kaikki ihanat lukijat! ♡
Onkin ollut hieman hiljaisempaa täällä blogissa ja tässä syy miksi; olen ommellut mekkoa ja käynyt juhlinnoissa, mitä varten sen tein. Viime viikonloppuna oli uuden ihanaisen tuttavuuden,
Idan
, syntymäpäiväjuhlat ja juhlien teemana rokokoo, täytyihän juhliin tehdä asu ja sitä kiireellä ompelin sitten viime viikon. Itse juhlista postailen myöhemmin. :)
Hi all lovely readers! ♡
It's been a bit quiet here in the blog and the reason why is this; I've been making a dress and attended the party I made it for. Last weekend was the birthday party of my new lovely acquaintance, Ida, and the theme of the was rococo, so I just had to make an outfit and was in a hurry to sew it last week. Will post about the party later. :)
(pahoittelen kuvan laatua / apologizing for the picture quality)
The Plan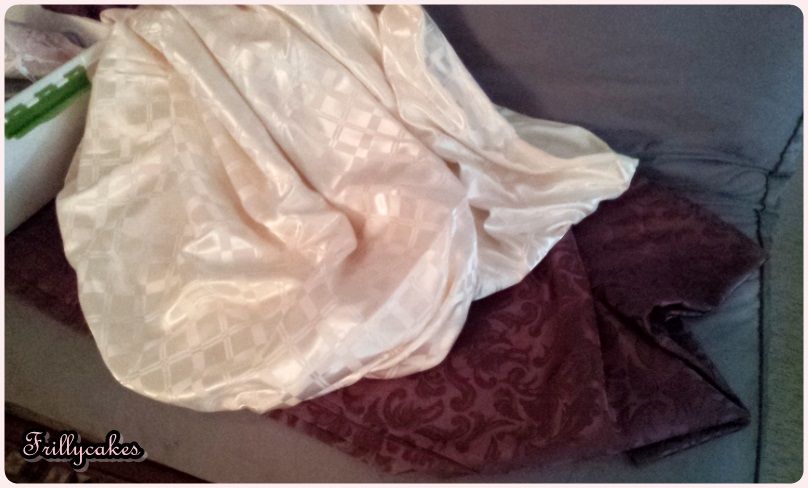 The Fabrics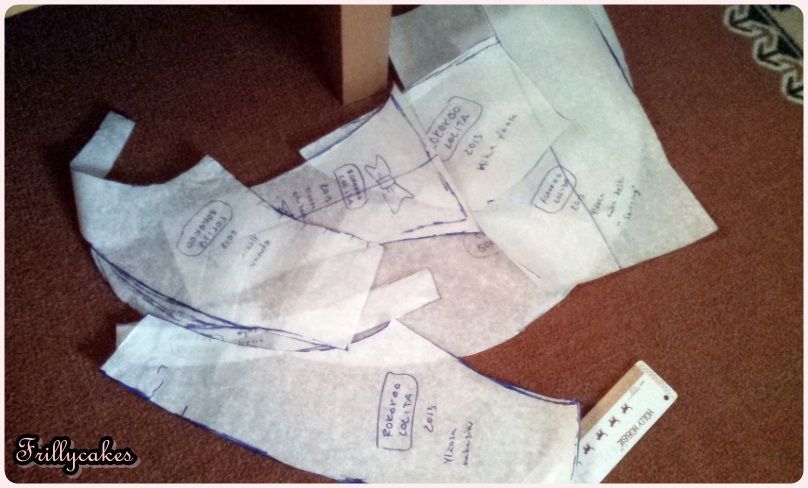 Kankaana toimi serkun vanhat verhot ja äidin vanha, vähän käytetty satiininen pussilakana. Teen aina pienen suunnitelman mekosta ja sen osista, tosin suunnitelma aina muokkautuu hieman matkan varrella. Teen itse myös kaavat, olisi hienoa osata ihan oikeaoppisesti tehdä näitä. :P Aloitin mekon maanantaina ja perjantaina sen piti olla valmis, viikolle mahtui myös muita menoja, joten oli kauhea kiire. Suunnitelma ja mitat oli vähän sinne päin ja ei niin tarkasti mietittynä, mistä johtuen tein jatkuvasti virheitä, jouduin purkamaa, leikkaamaan lisää osia jnejne..hutiloimiseen vaikutti varmaan myös kauhea panikointi. Perjantaina sain kuitenkin mekon valmiiksi! Yayy! :D Mekon tekemiseen meni loppujen lopuksi neljä päivää.
I used my cousin's old curtians and my mom's old, very little used satin duvet cover as fabrics. I always make a little plan about the dress and the parts for it, although it always changes a bit on the way. I make the patterns myself, would be great to know how to do them properly. :P I started the dress on monday and it had to be ready on friday, I also had other things during the week, so it was a terrible rush. The plan and the measurements were not so exact and thought through, which caused me to make constant mistakes, had to undo stitchings, cut more parts and so on..the panicing can also have affected the bungling. On friday I actually managed to get the dress done! Yayy! :D It took four days to make the dress in the end.
The Distraction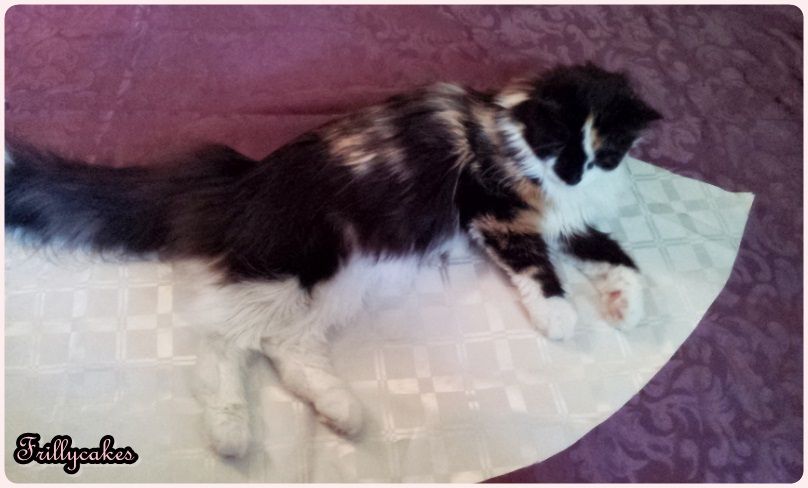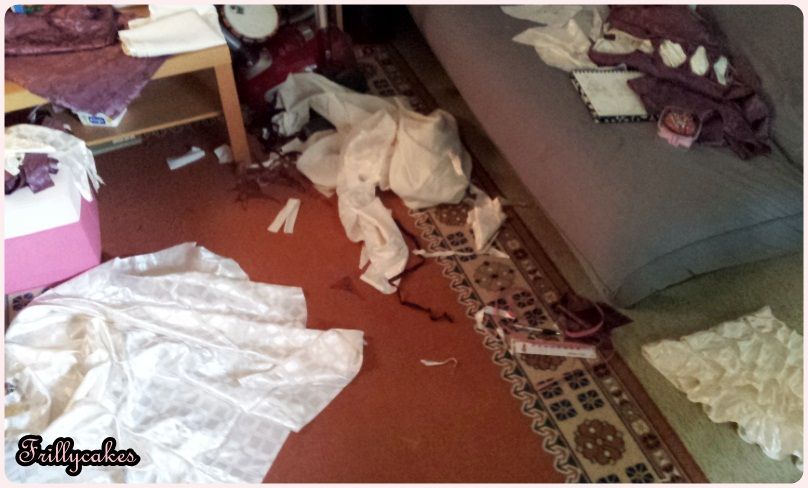 The Workplace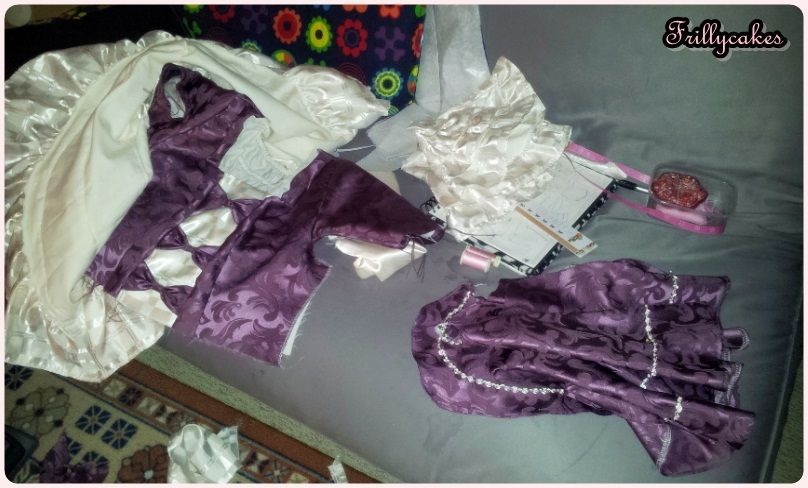 The Progress on thursday evening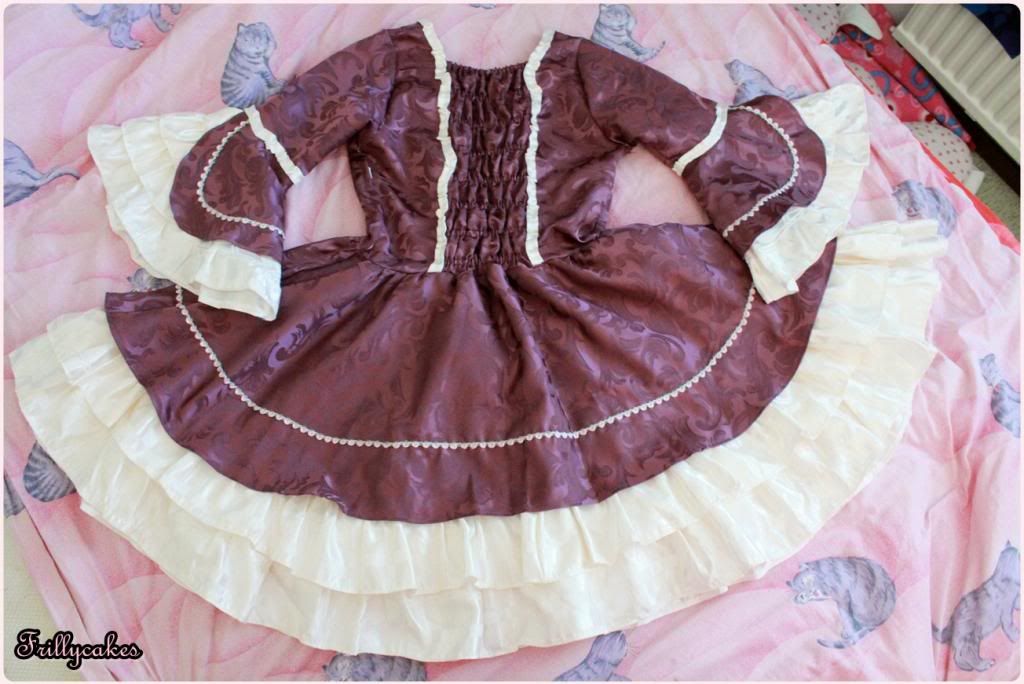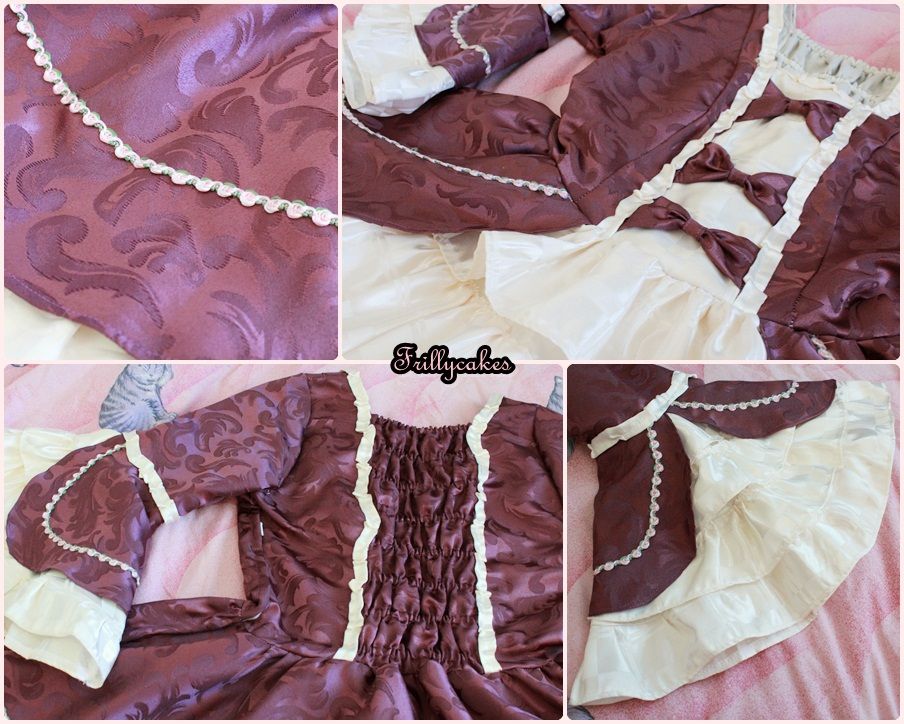 Pakko sanoa, että olin kyllä aikas ylpeä itsestäni, että sain tän tehtyä, vaikka olikin kömmähdyksiä matkassa. Jokaisen uuden tekeleen kanssa on kiva haataa itsensä ja tehdä jotain uutta, siitähän sitä sitten oppii. ^__^
I must say, that I was quite proud of myself, that I got it done, even though there were mistakes on the way. With every new piece, itäs nice to challenge yourself and do something new, that's the way to learn it. ^__^